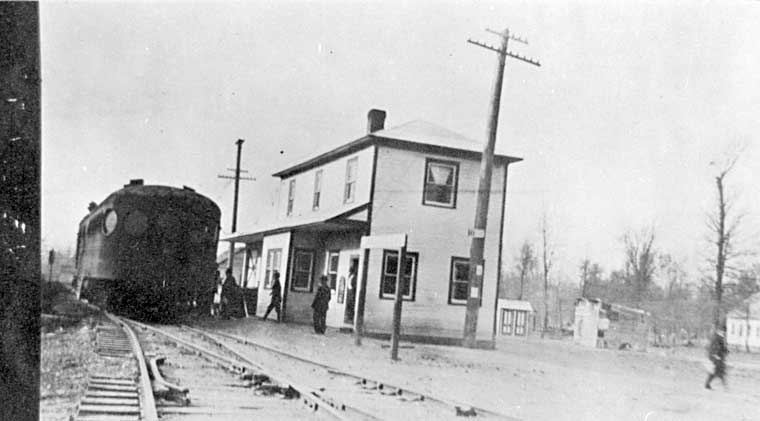 Photo Courtesy of "The Library, The Frisco"
The railroad depot at Broseley, Missouri, used by the St. Louis-San Francisco Railway Company Abandoned April 15, 1951. Formerly Bailey's End.
The following info is courtesy of Labelle Models
BUTLER COUNTY RAILROAD.
Inc. in MO, September 1, 1905
Trackage, June 30, 1916:
47.720 mi. First main track
12.025 mi. Yard track and sidings
Equipment:
Steam Locomotives 2
Freight cars 150
Passenger cars 3
Work equipment 29
Purchased from Brooklyn Cooperage Company which was originally built for logging
purposes:
6.81 mi. Lowell Jct. to Brossley, MO, 10/17/1905
9.24 mi. Brossley, MO to Sweet Gum, MO, 1/27/1911
3.29 mi. Sweet Gum, MO to MO/AR State line, 9/9/1912
4.21 mi. MO/AR state line to Milepost 26.74, AR, 9/22/1913
5.47 mi. Milepost 26.74 mi. to Meade, MO, 12/1/1914
By construction:
9.19 mi. Broseley to Linstead, MO, 10/17/1913
0.82 mi. Linstead to Poplar Bluff, MO, 9/1/1914
2.57 mi. Piggott to Pollard, AR, 4/5/1914
6.12 mi. Pollard to Piggott, AR, 5/1/1914
Controlled by:
Brooklyn Cooperage Company, a subsidiary of American Sugar Refining Co.