| | | | | | | |
| --- | --- | --- | --- | --- | --- | --- |
| Order Number/Date | Railroad | Road Number | Weight | Length | Seat | Notes |
| 002-  9/1905 | UPRR | #2 | 28T | 56'8″ | 38 (57?) | 100H.P., Fire 1/1915 |
Nicknamed the "Battleship"
Photo Courtesy of James Ehernberger.
Cartoon dated 2/6/1907.
McKeen Motor Car Union Pacific #2. Man #1 is William Riley McKeen, founder of the McKeen Cars. Man #2 is the A. L. Mohler, V. P. & G. M., and man #3 is the U.S. Senator Joseph Millard. William McKeen Died in 1947 from a cold. A. L. Mohler almost died in 1916 by falling at a local (Omaha, Neb) ice rink in 1916, but died later in 1930. last but not least, Senator of Nebraska, Joseph Millard who died in 1922.
McKeen Motor Car #2., had seating for 57 passenger, and was 56'8″ long.
McKeen Motor Car #2 interior factory photo.
McKeen Motor Car #2 at the factory.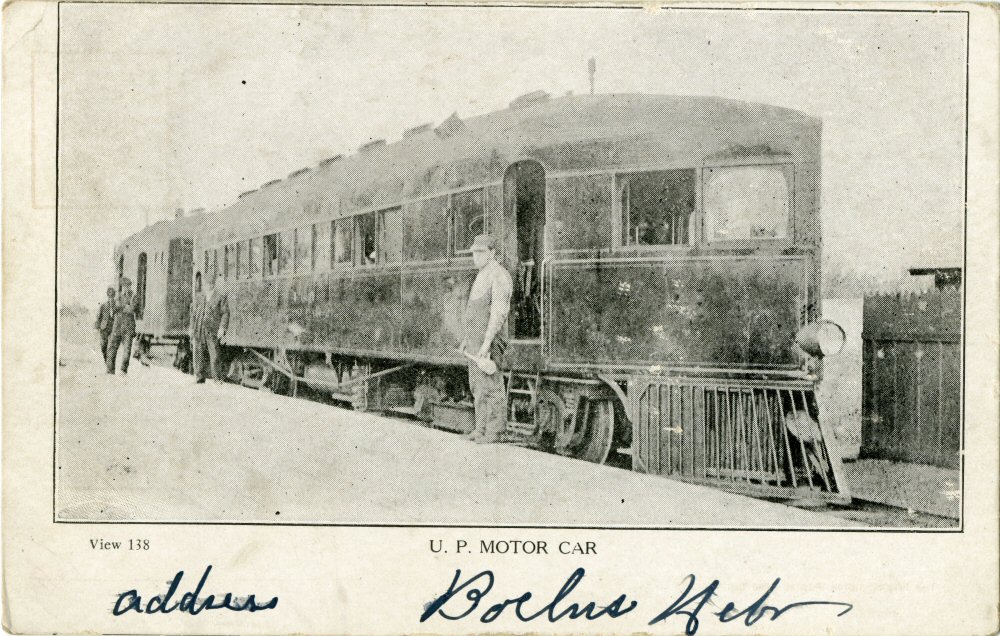 Postcard Courtesy of Madison Kirkman, M.M.C.C.H.S.
Postcard photo taken in Boelus, Nebraska, believed to be showing U.P.R.R. #2 with a trailer car.